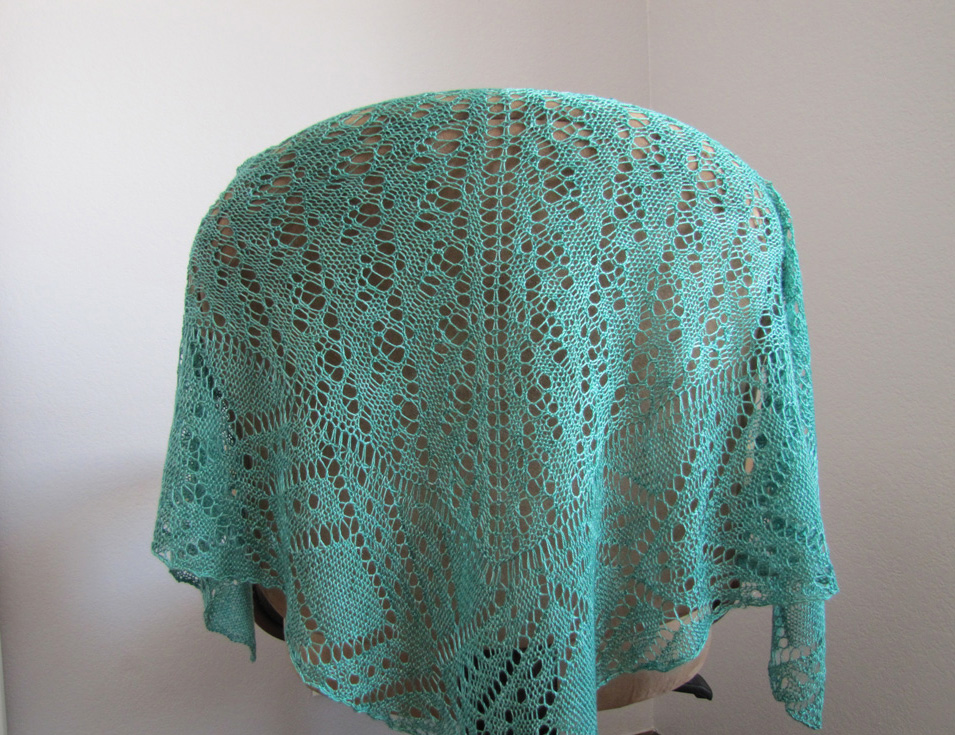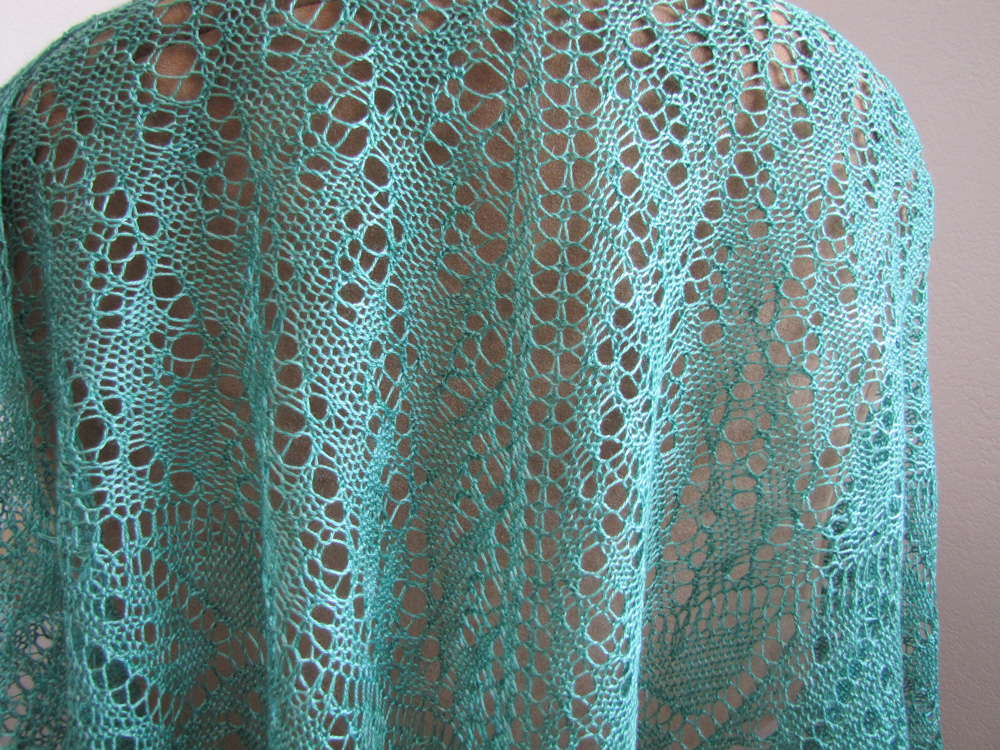 My husband's step-sister, Joella Sweet is getting married in October. Although I have never officially met her, I am very fond of her and I wanted to make her something special to wear during her wedding. I thought a lace shawl would be perfect.
This is my first lace shawl pattern. Although I am happy with the finished product, I did find this pattern difficult to understand and very frustrating. If you decide to knit this and aren't an experienced lace/shawl knitter, be prepared for some challenges. It took me a long time to get into the rhythm of it. If it wasn't for the tips offered by my super-fantastic knitting group I don't know if I would have finished it.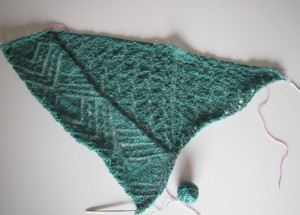 If you are new to lace knitting, I recommend that you learn how to use a lifeline. If you use ADDI click needles, they sell a lifeline tool. However, if you want a free and handy substitute you can just use a different color yarn and big needle to thread it through your stitches. There are videos on youtube that will show how to do this if you don't have a helpful knitting group. I STRONGLY recommend that you use a lifeline when knitting shawls. All those YO's and K2TOG are impossible to save if you drop a stitch.
That yarn is from KnittedWit, an Etsy seller. I am a big fan of Etsy and handmade products. I was excited to buy this yarn from a "real person". I loved this yarn and I recommend that you check out her shop. She takes custom orders and is very easy to work with.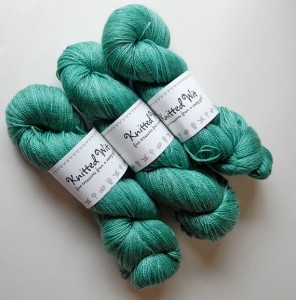 This wasn't a free pattern so I won't go too far into detail about the knitting. It's knit top down and then the border is knit left to right with a tiny bit of short rows. When it's finished it should look like this…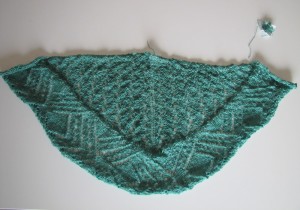 Weave in the loose ends. In theory you shouldn't have many because this shawl can be knit with one skein of yarn, but I had a few mishaps including a time when I almost vacuumed the half finished shawl and snapped the yarn. I use a tiny crochet hook and a big yarn needle for weaving ends.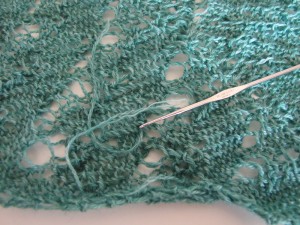 Give the shawl a soak rinse and block the shawl. This step amazes me. The shawl instantly grew to about three times its size. I used a ruler to make sure I wasn't stretching one side too far and I gave the bottom a bit of a point but other than that I didn't get too fancy.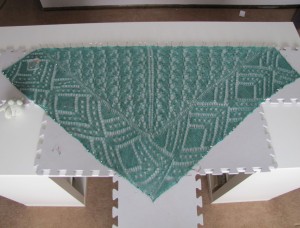 I was a little alarmed by how green the water turned from the yarn. I believe it's because the yarn was hand dyed. I rinsed the shawl twice until the water ran clear. Hopefully, this will ensure the shawl doesn't bleed on the wedding dress. Also the shawl color didn't fade at all. If anything the bath seemed to make the color pop more. I really love how beautiful this yarn knits up!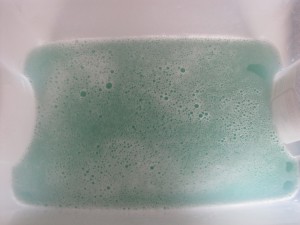 I am excited to mail this out to Joella. Even if she decides not to wear it down the aisle, I think she will get plenty of use out of it.